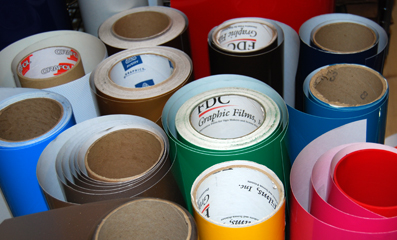 1st Annual Inventory Sale!
Start the New Year off right! We want to liquidate our vinyl inventory which means you can get deeply discounted signs, vehicle graphics, window vinyl, etc. for your business or for personal uses. See below for more information.*
Traditional Vinyl:
30% off of any colors that we have in stock*.
Color options (amounts in stock vary):
White, Light Gray, Medium Gray, Dark Gray, Black, Matte Black, Brown, Terra Cotta, Imitation Gold, Sandstone, Buckskin, Canary Yellow, Yellow, Bright Orange, Tangerine, Cardinal Red, Spectra Red, Burgundy, Pale Lilac, Purple, Copenhagen (Periwinkle), Navy, Sapphire Blue, Olympic Blue, Light Blue, Butterfly Blue, Aquamarine, Dark Aqua, Apple Green, Kelly Green, Dark Green, Metallic Silver, Metallic Champagne, Metallic Bright Gold, Chrome Mirror, Gold Mirror
Digital Vinyl:
20% off of any materials that we have in stock*.
Material Options (amounts in stock vary):
Window Mesh Vinyl, Matte Vinyl, Bubble Free Glossy vinyl, Fat Head (Wall) Vinyl, Matte Ultra Smooth Double-sided Banner, Glossy Banner, Matte Banner, Flag Fabric, Vehicle Magnetic, Backlit Film, Clear Vinyl
What is vinyl?
The vinyl we are talking about is a material with an adhesive backing that can be used for any type of signage.  Traditional Vinyl is vinyl that has been colored.  It is then cut out on our plotter to the shape that you want.  After it is cut out, all the excess vinyl is removed, then we can apply it to a sign, car, window, etc.  Digital Printing is a similar process but it requires a large format printer that can print directly on the rolls of white digital material (vinyl, banners, window mesh, etc.).  It can also be cut out to any shape with our plotter.  For longer lasting digital prints, there is a lamination material that can applied with heat-based laminating machine onto the material which protects it from fading, scratches, etc.
What can I do with vinyl?
You can use it for anything from vehicle graphics, real estate signs, exterior business signs, interior signs, window/hours vinyl, wall decor, etc..  We also have fine art options – art prints/photos on canvas, art prints/photos mounted to PVC backing, art prints/photos on matte or glossy photo paper.
[nggallery id=2]
*While supplies last.  Does not include any setup or design fee.  Sale ends on February 15th, 2012.  Must have vinyl ordered & paid for by the 15th.