We have had a lot of our clients ask us how to optimize their Facebook business page more effectively. We decided to make a Facebook Audit that we go through with our clients to make sure that they have all of the necessary items on their Facebook page as well as giving them a plan for the future that they can implement themselves. We wanted to make it a little more fun by giving a "grade". Most of our Facebook Audits have received a grade of around 8-12 out of 18. What will your Facebook grade be?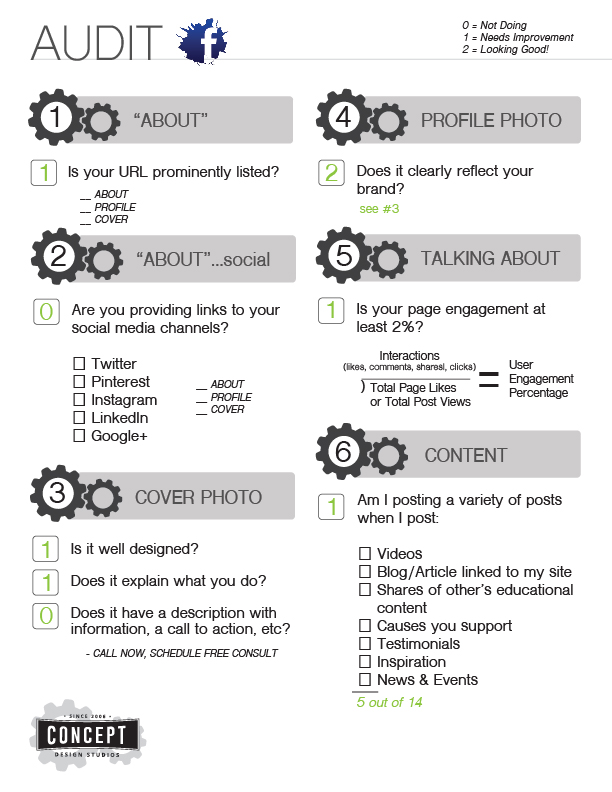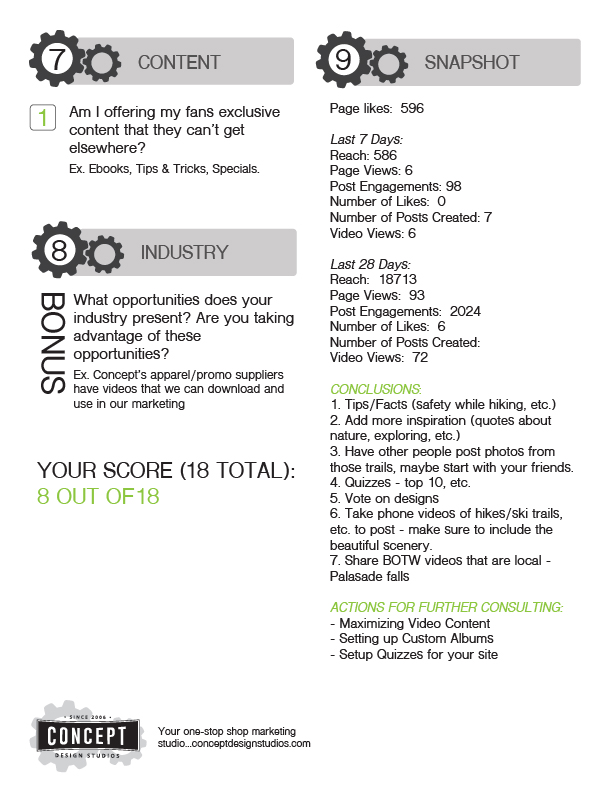 These Facebook Audits are $199 but we have been charging an introductory price of $99. If you schedule a Facebook Audit with us, this is what you'll get/learn:
We will go into the backend of your business page before we meet and "grade" your page
We spend 45 minutes going through the Facebook Audit with you in person or on the phone
We print out/email you your Facebook Audit to take notes on as we're going through everything together
We give you recommendations on how to optimize your Cover Photo and Profile Photo
We show you how to calculate your page and post engagements
We guide you on how to post a variety of posts and which are the most effective
We share with you some trends in marketing so you can market the most effectively
We give you basic information on Boosting posts and looking at the effectiveness of your current posts
We give you tailored recommendations to your specific business and Facebook page
We give you recommendations on how to continue effectively with your Facebook page
So if you are interested, schedule a time for us to do an Audit!
A lot of people wonder if Facebook is really a good way to do marketing. There are a ton of different ways to effectively market and we believe that Facebook is a really great tool. Here are a few reason why Facebook is worth using as part of your marketing plan:
Similarly to Google AdWords, you can really tailor your ads to your target market and a very specific demographic
The cost of advertising is extremely low and can be extremely effective
It is a great way to market locally and get branding recognition in a small market
It is also a great way to market nationally much cheaper than many other types of marketing
It is a great way for clients to connect with you on a personal and more interactive level
Its fast and easy to post new projects or portfolio items
You can cross-promote with Instagram
You can connect your website with your facebook page and post your blog articles on your facebook page for more interaction
Those are just a few of the reasons that Facebook should be one of your marketing avenues for your business! Please let us know if you have any questions about our Facebook Audit!